INDIVIDUAL PACKAGING IN SMALL SERIES 
With Manyfolds' digital end-to-end packaging solution, you'll never have to worry about matching shipping boxes and filling materials again.
Perfect, individual shipping packaging and boxes in small series digitally and automatically generated. Size-optimized, environmentally friendly, secure and delivered in just 6-10 days.
Customized packaging - to match your products
Custom corrugated packaging for your products: Create individual, customized cardboard boxes in just a few steps, simply enter the length x width x height of the shipping goods or upload their 3D files and the perfect folding box with secure inserts will be automatically generated for you. 
Immediately after sending the order, your individually designed packaging will go into production at one of our certified partners and a short time later into shipping, so that you will have your packaging solution in your hands after only 6-10 days.
Folding the cardboard boxes is particularly fast. Little adhesive tape and no additional filling material (such as expensive bubble wrap) are required. The result: environmentally friendly, cost-effective, break-proof packaging and an attractive product presentation. Your product - our packaging!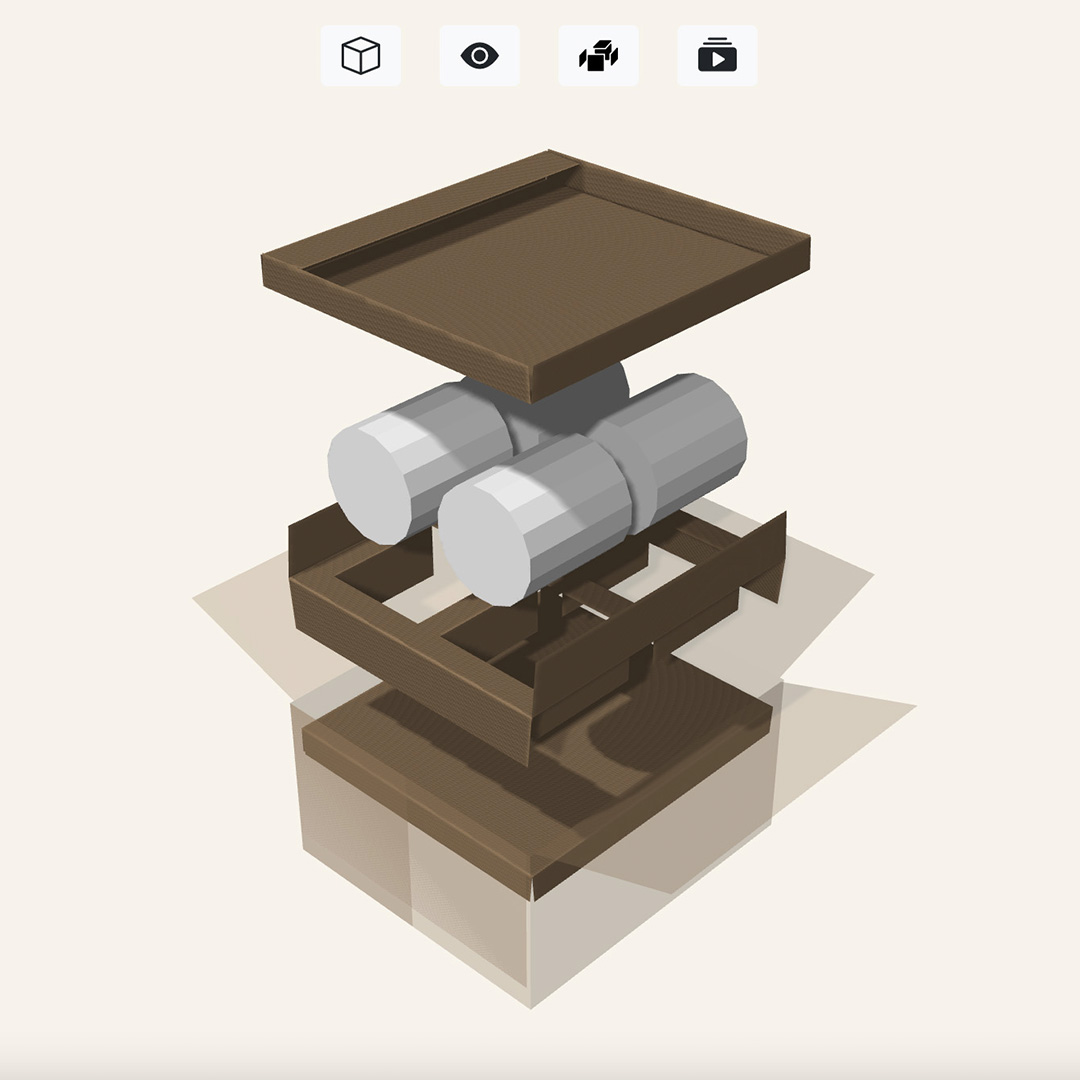 Look no further for the ideal carton, with Manyfolds you will always have the right packaging solution from now on.
Individual, fast, safe, environmentally friendly and appealing!
With Manyfolds, packaging not only becomes more environmentally friendly, safer and faster, it also becomes cheaper overall. Individual packaging for changing products and product combinations can be designed by the customer without the detour via an external packaging designer and ordered online immediately. Tooling and design costs are not incurred at all for small batch production carried out with Manyfolds and our carton calculator immediately calculates the current price for them.
Added to this is the time saved: from individual design to delivery of the packaging takes only a few days - compared to the classic process for individual packaging and cardboard boxes, Manyfolds is a "packaging express".
Benefit from all Manyfolds advantages from now on!
The Manyfolds packaging generator
It hardly gets any faster!
The perfect, customized shipping package in just a few seconds? Now possible with Manyfolds. Whether it's compact transport packaging for industry, special gift boxes and packaging, or customized products for e-commerce: The design process is simple, fast and smart.
No matter which design you choose: In any case, the packaging result is safe, attractive, of high quality and particularly sustainable. Only environmentally friendly, certified corrugated cardboard is used for the production of the packaging and no films or other filling materials are required when packaging your goods. Thus, Manyfolds packaging is 100% recyclable. Manyfolds folding cartons are produced similar to FEFCO - type 0201.
The first fully digital platform for packaging solutions.
The revolutionary packaging solution 
ALL IN ONE: Manyfolds is the all-in-one solution for fast, digital design and ordering of custom shipping packaging.
HIGHLY INDIVIDUAL: Packaging is assembled automatically or manually, with your personal input. You determine the individual designs, the product levels, rows, placements. The inserts are tailored individually and precisely to fit their products. Optionally, you can also use your existing outer cartons and customize Manyfolds inserts to fit them exactly. There are many more ways to use the Manyfolds portal customized, adapted to your own requirements!
PERSONAL PACKAGING CENTER: In your personal user account you have various possibilities to design packaging and manage your goods and already existing outer boxes - free of charge!
FAST DELIVERY: Only 6 to 10 days from order to delivery!
VALUE FOR MONEY: There are no usual construction costs, as well as design and tooling costs with Manyfolds. In addition, there are no additional costs for filling materials and the Manyfolds packaging significantly minimizes the product breakage rate. The bottom line is that Manyfolds is a cost-effective packaging solution.
SATISFIED CUSTOMERS: Manyfolds brings about all-around satisfaction! With the appealing product presentation, size-optimized carton, no filler materials and goods that arrive safely, your customers are happier and more satisfied with Manyfolds Packaging.
FUTURE DIRECTLY BUILT IN: With Manyfolds we give you an "always up to date" guarantee. You will receive features, improvements and updates automatically and at any time for free. 
Manyfolds - finally a packaging that meets your requirements!
From now on, even small batches are no longer an exclusion criterion for individual packaging! With Manyfolds, we offer you the possibility to order individual, customized packaging, boxes and inserts from a quantity of 1.
DO YOU HAVE ANY QUESTIONS?